DEAN, FACULTY OF HUMANITIES AND LINGUISTIC COMMUNICATION
Assoc. Prof. Konstantinos Giakoumis, Ph.D.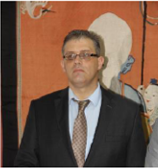 Short Bio:
Assoc. Prof. Konstantinos Giakoumis is Associate Professor of History of Arts and World Civilizations at POLIS University and a Ph.D. degree holder from the University of Birmingham. A Scientific Advisory Board member of the Historiography in Ottoman Europe project, K. Giakoumis has curated two exhibitions, one in 2015 (Water in Arts and Crafts of the Berat Region, 4th century B.C. to 19th century A.D.) and another one in 2017 (Flora in Artworks and Artefacts of the Korça Region (12th century B.C. to 20th century A.D.)), whose catalogues and accompanying teaching & learning manuals he co-authored and edited.
Dr. Giakoumis is member of the international advisory board of the annual Art Readings published by the Institute of Art Studies, Bulgarian Academy of Sciences and peer-reviewer of the Serbian Academy of Sciences and of project submissions at the University of Crete. He has also peer-reviewed paper submissions to well-known international journals, such as the Speculum (Medieval Academy of America, The University of Chicago Press); the Journal of Educational Media, Memory, and Society (Georg Eckert Institute for International Textbook Research, Berghahn Independent Publishing); the Journal of Religious History (Religious History Association, Wiley Journals); Politics, Religion & Ideology (Taylor & Francis).
K. Giakoumis has led the application process of a KA-2 Regional Capacity Building Project in Higher Education titled "IDEA: Inclusive Tertiary Education in the West Balkans" (955,103 Euros), establishing a consortium with 17 partners, which was selected for implementation (Reference Number: 618859-EPP-1-2020-1-AL-EPPKA2-CBHE-JP). In addition, he received the European Commission's Seal of Excellence (05.03.2018) for high-quality project proposal in a highly competitive evaluation process and is a proliferate author. He has published papers in such international journals as Byzantine and Modern Greek Studies (Cambridge Core), the Turkish Historical Review (Brill), Вестник славянских культур (State Academy of Slavic Culture) and the International Journal of Cultural Policy (Taylor & Francis). He has also published books chapters in well-known international publishers, as Peter Lang, Ashgate and Gorgias Press. With an active research and publications agenda at a national, regional and international level, Dr. K. Giakoumis' latest book deals with the Codex of the Diocese/Metropolis of Dryinoupolis and Gjirokastra (1760-1858) published by University College LOGOS Press.
Contact: konstantinos.giakoumis@kulogos.edu.al
Full CV: https://kulogos.academia.edu/KonstantinosGiakoumis/CurriculumVitae