DEAN, FACULTY OF ECONOMICS
Prof. Dr. Artur Ribaj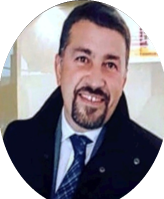 Short Bio:
Prof. Dr. Artur Ribaj, Lecturer and Financial Markets Consultant.
He has 25 years of work experience in the academic field as a lecturer at public universities and recently in private institutions for subjects related to markets and financial institutions, auditing, risk management, etc. Author of scientific articles published in journals indexed with SCOPUS, or other indexes. Author of papers in international conferences as well as opponent and scientific leader for dissertations in the field of financial markets. He holds the degree of Doctor of Science since 2004 by Faculty of Economics in University of Tirana, and the title Prof. Assoc. since 2012, while in 2021 he received the title of professor doctor. He holds international certifications in the field of Securities (Securities), Risk Management, Financial Stability, EU Legislation, Money Laundering, etc.
His work experience for up to 20 years as a manager in several positions in banks, including five (5) years as Head of the Supervision Department at the AFSA and the Supervision Department at the Bank of Albania. During these years of work in the financial markets has represented the respective units that led in partnership relations with important public institutions, domestic and foreign counterparts, other supervisory authorities inside and outside Albania, and other international institutions such as the EU Council, International Monetary Fund, World Bank, ECB, Standard & Poor's, etc. He has contributed to the drafting and coordination of work for reports and meetings with IMF and WB experts and the fulfillment of recommendations given for good governance of financial intermediaries.
He has been a leader of several interdepartmental working groups for drafting new regulatory acts and / or amending them for the banking market, insurance market, investment funds and pension funds in accordance with European Union ACQUIS, regional best practices and specifications of Albania in order to address the recommendations given by Financial Sector Assessment Program, EC, Supreme State Audit, etc.
Contact: artur.ribaj@kulogos.edu.al
DEAN, FACULTY OF APPLIED SCIENCES
Assoc. Prof. Spartak Bozo

Short Bio:
Born in Tirana 03.03.1954 he was graduated in the branch of Industrial Chemistry, Faculty of Natural Sciences. He has completed specializations in Italy, France in the field of Biochemistry. He has awarded the Candidate of Science Degree (PhD) at the Institute of Biosynthesis Studies at the national Research Centre in 1989 and has awarded the "Master of Research" (Prof.ass.) in 1994.
| | |
| --- | --- |
| 1986 - 1997 | Researcher at the Academy of Science at the Institute of Biological Research 1989 The Head of the Department of Biochemistry and Biophysics of this Institute |
| 1997 - 2005 | General Director of the Directorate of Patents and Trademarks, at the Council of Ministers |
| 2006 - 2016 | Academic staff and Vice-Dean at the Faculty of Biotechnology and Food at the Agricultural University |
| 2016 - 2020 | The Head of the Department at the University of Sports, at the same time academic staff and researcher in the field of Biology, Biochemistry of human genetics |
| October 2020 - onwards | Dean of the Faculty of Applied Sciences, University College "LOGOS" |
He is the author of many publications in national and international scientific periodics, in the field of Biochemistry; Genetics and the adaptation of the organism to the oxygen insufficiency. He has attended many national and international activities. He is a member of various national and international professional organizations.
Contact: spartak.bozo@kulogos.edu.al
DEAN, FACULTY OF HUMANITIES AND LINGUAL COMMUNICATION
Assoc. Prof. Konstantinos Giakoumis, Ph.D.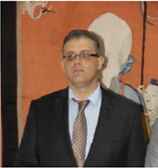 Short Bio:
Assoc. Prof. Konstantinos Giakoumis is Associate Professor of History of Arts and World Civilizations at POLIS University and a Ph.D. degree holder from the University of Birmingham. A Scientific Advisory Board member of the Historiography in Ottoman Europe project, K. Giakoumis has curated two exhibitions, one in 2015 (Water in Arts and Crafts of the Berat Region, 4th century B.C. to 19th century A.D.) and another one in 2017 (Flora in Artworks and Artefacts of the Korça Region (12th century B.C. to 20th century A.D.)), whose catalogues and accompanying teaching & learning manuals he co-authored and edited.
Dr. Giakoumis is member of the international advisory board of the annual Art Readings published by the Institute of Art Studies, Bulgarian Academy of Sciences and peer-reviewer of the Serbian Academy of Sciences and of project submissions at the University of Crete. He has also peer-reviewed paper submissions to well-known international journals, such as the Speculum (Medieval Academy of America, The University of Chicago Press); the Journal of Educational Media, Memory, and Society (Georg Eckert Institute for International Textbook Research, Berghahn Independent Publishing); the Journal of Religious History (Religious History Association, Wiley Journals); Politics, Religion & Ideology (Taylor & Francis).
K. Giakoumis has led the application process of a KA-2 Regional Capacity Building Project in Higher Education titled "IDEA: Inclusive Tertiary Education in the West Balkans" (955,103 Euros), establishing a consortium with 17 partners, which was selected for implementation (Reference Number: 618859-EPP-1-2020-1-AL-EPPKA2-CBHE-JP). In addition, he received the European Commission's Seal of Excellence (05.03.2018) for high-quality project proposal in a highly competitive evaluation process and is a proliferate author. He has published papers in such international journals as Byzantine and Modern Greek Studies (Cambridge Core), the Turkish Historical Review (Brill), Вестник славянских культур (State Academy of Slavic Culture) and the International Journal of Cultural Policy (Taylor & Francis). He has also published books chapters in well-known international publishers, as Peter Lang, Ashgate and Gorgias Press. With an active research and publications agenda at a national, regional and international level, Dr. K. Giakoumis' latest book deals with the Codex of the Diocese/Metropolis of Dryinoupolis and Gjirokastra (1760-1858) published by University College LOGOS Press.
Contact: konstantinos.giakoumis@kulogos.edu.al
Full CV: https://kulogos.academia.edu/KonstantinosGiakoumis/CurriculumVitae