DEKAN I FAKULTETIT EKONOMIK
Prof. Dr. Artur Ribaj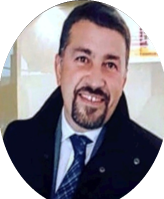 Bio:
Prof. Dr. Artur Ribaj, Lecturer and Financial Markets Consultant.
He has 25 years of work experience in the academic field as a lecturer at public universities and recently in private institutions for subjects related to markets and financial institutions, auditing, risk management, etc. Author of scientific articles published in journals indexed with SCOPUS, or other indexes. Author of papers in international conferences as well as opponent and scientific leader for dissertations in the field of financial markets. He holds the degree of Doctor of Science since 2004 by Faculty of Economics in University of Tirana, and the title Prof. Assoc. since 2012, while in 2021 he received the title of professor doctor. He holds international certifications in the field of Securities (Securities), Risk Management, Financial Stability, EU Legislation, Money Laundering, etc.
His work experience for up to 20 years as a manager in several positions in banks, including five (5) years as Head of the Supervision Department at the AFSA and the Supervision Department at the Bank of Albania. During these years of work in the financial markets has represented the respective units that led in partnership relations with important public institutions, domestic and foreign counterparts, other supervisory authorities inside and outside Albania, and other international institutions such as the EU Council, International Monetary Fund, World Bank, ECB, Standard & Poor's, etc. He has contributed to the drafting and coordination of work for reports and meetings with IMF and WB experts and the fulfillment of recommendations given for good governance of financial intermediaries.
He has been a leader of several interdepartmental working groups for drafting new regulatory acts and / or amending them for the banking market, insurance market, investment funds and pension funds in accordance with European Union ACQUIS, regional best practices and specifications of Albania in order to address the recommendations given by Financial Sector Assessment Program, EC, Supreme State Audit, etc.
Contact: artur.ribaj@kulogos.edu.al