Second Level Master, Adv. Venian (Naum) Mile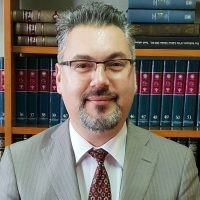 He was born in Korça, Albania. He completed his studies at the Faculty of Law, University of Tirana from 1995 - 1999 and in 2002 he has completed his Second Level Master of the study program in Business Administration, and holds a diploma issued from the University of Bordeaux, France. He holds the title of Advocate from the National Chamber of Advocates. He has also worked for four years as a radio reporter and speaker at "Resurrection" Radio.
He has worked in the banking sector for sixteen years, first as a specialist and then in leading positions at the Department of Legal Affairs of Tirana Bank, sh.a.
He has been a Member of the Board of Directors of "Evangelisation" Foundation since 2013 and he is a member of the Clergy-Laity Church Council.
Mr. Mile currently holds the position of Administrator of "LOGOS" University College.